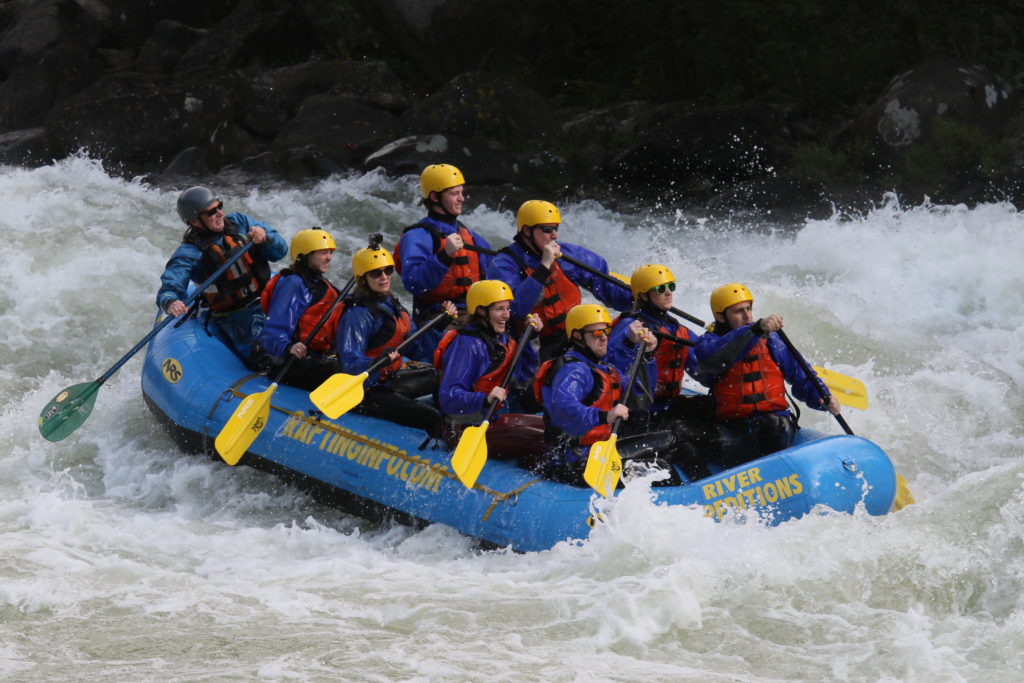 On day two of our Oak Hill whitewater rafting trip, I sprung out of bed like a child on Christmas morning. I was ready to get onto the river. After checking in with our trip leader, we headed up to the dining hall for breakfast. I made myself a hot cup of coffee and settled into a chair near the young couple we had rafted with the day before. Excited to see what the river had in store, we walked down to the gear room to pick up the helmets, PFDs, and paddles we had donned the previous day.
We gathered our things, put on our wetsuits, and loaded up on the bus. We headed down the same road as we had before, but this time we were launching almost next to the dam! While on the bus, our trip leader spoke to us about the dangers of rafting. While it was similar to the talk we had heard yesterday, Jimmy was much more serious. He said that the Upper Gauley was a bit more dangerous and that there were many more hazards than just the rapids.
Once the bus arrived at the dam, we separated into groups and out onto the river we went. I'll admit I was nervous after all the videos of wipeouts I had seen and stories I had heard. However, there was no way I could turn back. I was committed and determined to see this through. We rafted along through some class 2 rapids and ripples before approaching a class 3. All 8 of us looked at each other and knew this would not be the same as the previous day's trip. We were guided through the class 3 and 4 rapids with ease. As we came up to the first class 5 rapid of the trip, the whole attitude of the boat changed.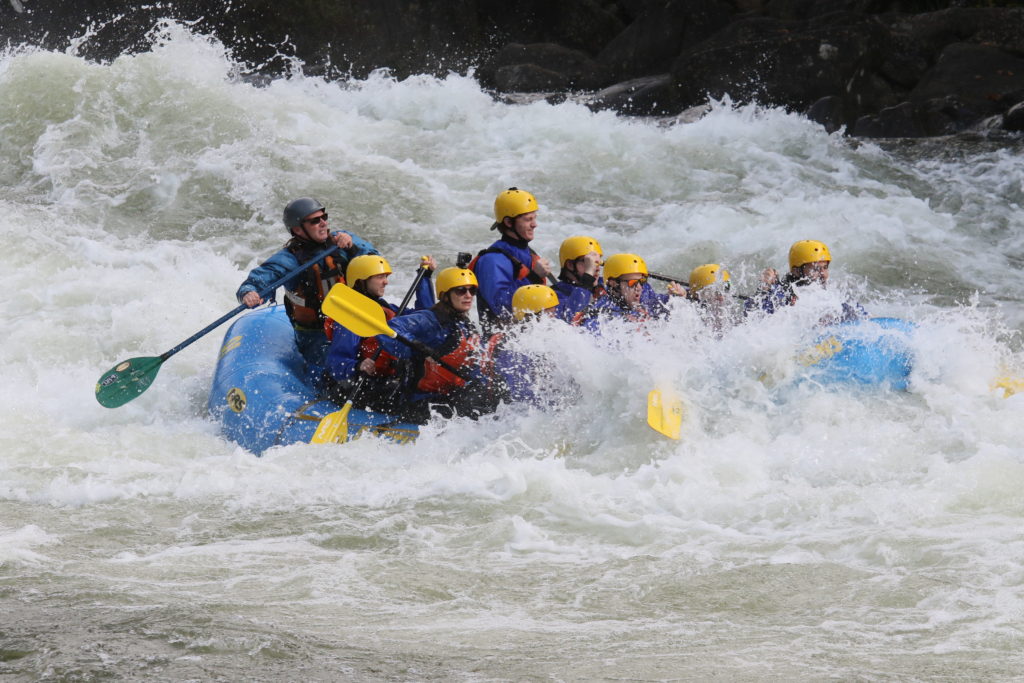 The trip leader, Jimmy, was also our guide. That being said, we were the first boat of our group to go down every rapid. If any of us fell out, there was no other boat playing safety. All the other boats followed us through each rapid and ripple. They would try to follow our path if the water would let them. In the case of Pillow Rock, that was not an option… Our guide explained that Pillow Rock is where most rafts will flip or have people fall out. The first few rafts got down just fine, shying away from Pillow Rock without getting stuck on a boulder the size of a VW Beetle. Sure enough, one boat didn't quite have enough space and ran right into Pillow Rock. The raft almost flipped over and they lost 3 of their 5 people.
We all scrambled to the rescue and got them into their raft before continuing down the river. As Pillow Rock faded from site, the next rapid came into view. That sigh of relief would have to wait just a little longer. We floated through some of the smaller rapids before approaching Lost Paddle. This class 5 rapid is 2/3s of a mile long and have 4 major drops in it, the largest of these being at the end. All the rafts in our trip fared well and there were not any swimmers. We weaved our way through Shipwreck before catching our first glance of Iron Ring.
We were almost done with the Big 5, but we still had not seen Sweet's Falls. Iron Ring was big with a lot of movement. Jimmy guided our raft through as if we were floating down a calm stream. The other boats didn't have it so easy. There were a few ripples before we made it to Sweet's Falls. At the bottom, other rafts sat and watched. Some of them waiting to see if anyone fell out. A couple of boats from another company were in a holding pattern off to the side. We were all eager and hungry so we slipped on by and got our instructions from Jimmy as we approached the waterfall.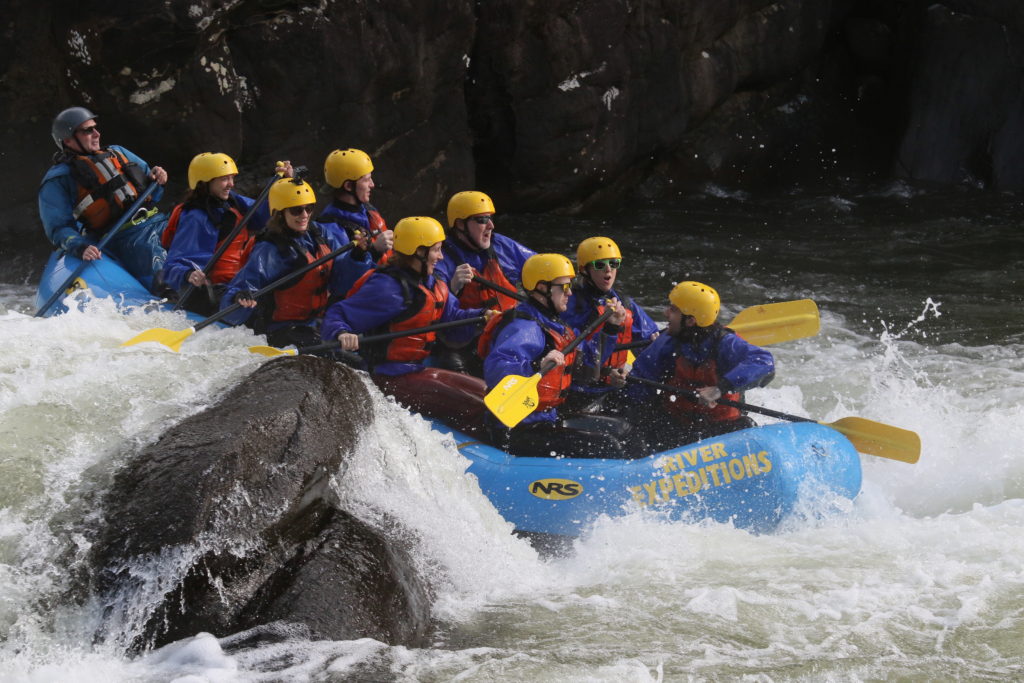 Have you ever gotten signed up for something, gotten to the very edge, wanted to turn back and know you can only go forward? That was me as we approached the edge of the 14 foot waterfall. Our team paddled like crazy following Jimmy's directions. I almost lost my seat as we went over the edge, but somehow managed to stay in the boat! We drifted into an eddy to play safety for the other boats. The 2nd and 3rd boats down did just fine. The 4th boat wasn't so lucky. They ended up going over the waterfall backwards and the WHOLE raft flipped over, spilling everyone and everything in it. The rafters swam for the nearby boats while their guide, Candace, swam after her raft and flipped it back over.
Once enough boats had come over, we made our way to the lunch spot on the opposite bank from where we were. Jimmy tied off the raft and up the steps we went. The owners, Heather & Rick Johnson, were up at the lunch spot. We caught up with them before grabbing lunch and settling onto a warm rock in the sun to eat. Other rafting trips made their way over the falls, so we got to watch all the wipeouts while enjoying an amazing hot lunch.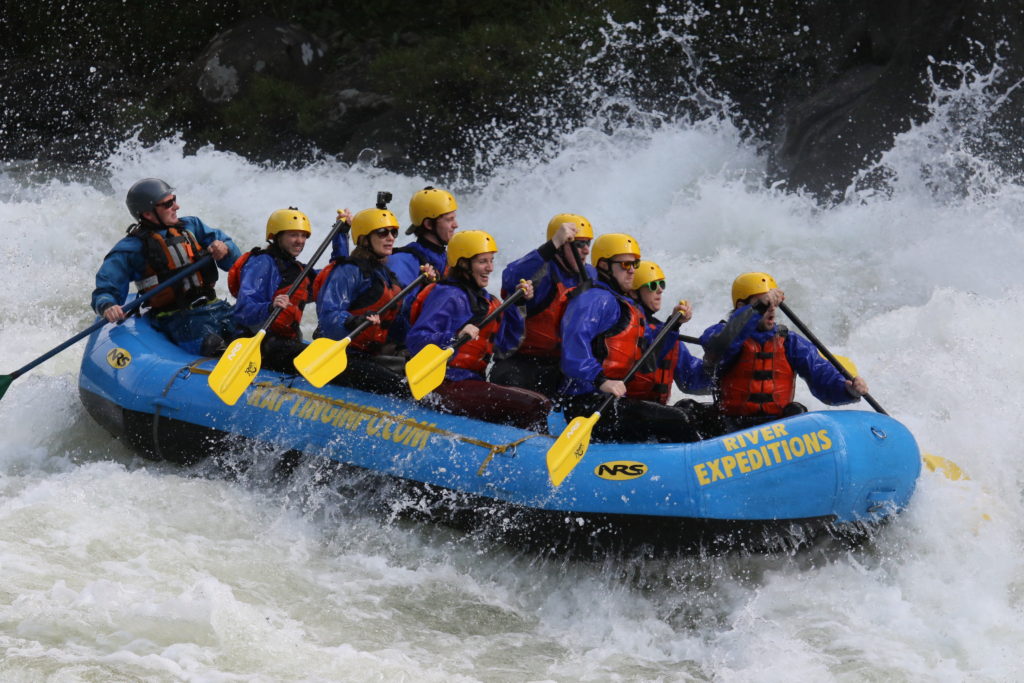 After lunch was over and we made our way back down to the raft, we sorted out the gear collected from Candace's overturned raft and made our way back into the water. It was a bit slow after Sweet's Falls. There were 4 rapids left before the take out point. One of the guides, Devin, started bragging about having 6 wonderful human shields that protected him from the water and how his hair wasn't even wet. So much for that Devin! On the next rapid, an easy class 4 compared to the class 5 rapids we had been running, Devin made one wrong move and his raft flipped. Out went all of his rafters and there went his dry hair.
We made it to the take out point without any other problems and loaded the raft with ease. All the rafters grabbed their cold beers and sodas and climbed onto the bus. I was already starting to get tired on the bus ride back, but that wasn't an option. After returning back to base camp, we turned in our gear, changed into warm dry clothes, and met up with our new friends to trade stories about the day. We met up with Kerstin & Marc, the young couple we had rafted with and talked to while at River Expeditions, to watch the video of our Upper Gauley River trip. They told us they were heading home and to drive safe. We exchanged phone numbers and handshakes before parting ways. After thanking our guides, Devin & Jimmy, and our hosts, Heather & Rick, we loaded up in the truck and headed home.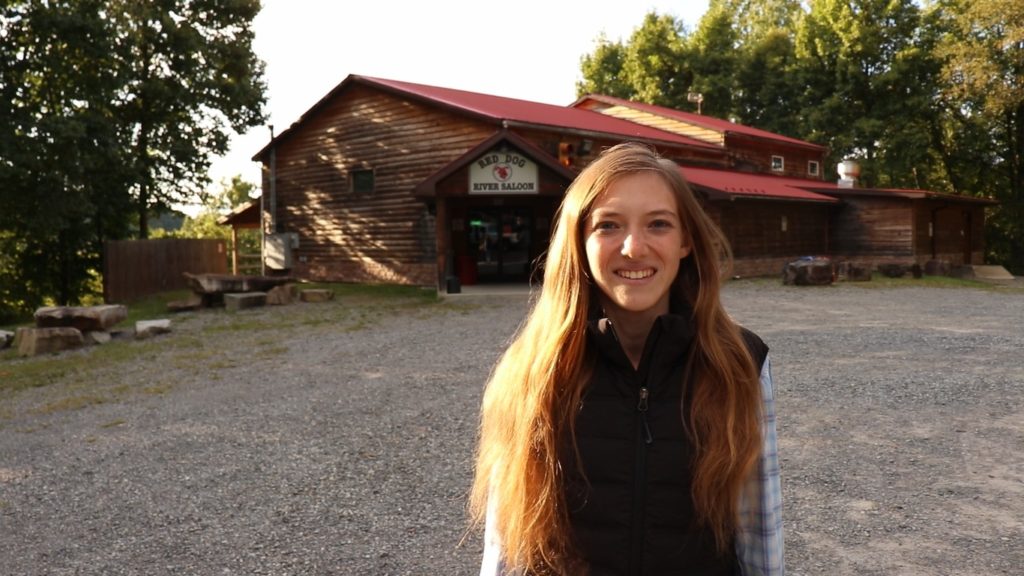 Wes and I had an amazing time during our visit to River Expeditions! Gauley Season is only until the middle of October so book your trip today! Seriously! Click the link to River Expeditions website here, and book your trip before it's too late.
Also, make sure you check them out on Facebook, Instagram, Twitter, and YouTube. You can thank me later, just don't wait too long and make sure you tell them Kat Haas Outdoors sent you!
See you next time at River Expeditions, where they specialize in fun!
-Kat
Check out Day One here!