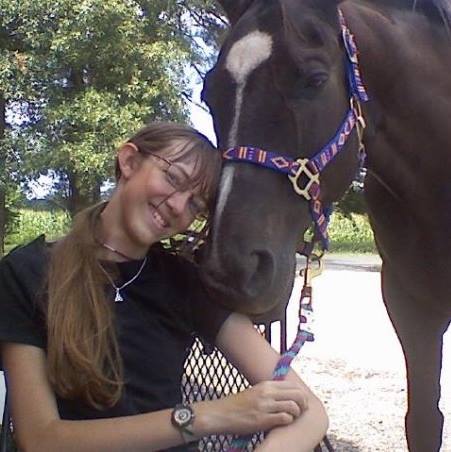 Have you ever had a connection with an animal that you knew was going to be everlasting? I had that connection back when I was in 7th grade. It was a really cloudy day on winter and it had only been one year after my riding accident. That accident changed my life in good and bad ways, but that is a whole other story…
My mom was picking me up from school and she was telling me about a local barn that needed some help mucking stalls and exercising their horses. It turns out I had been by that barn hundreds of times. It was only 5 miles from our farm and was on the way to and from home. This particular evening, there was a Lexus SUV sitting at the barn when we pulled it. My mom and I got out of the car and started walking towards the greenhouse on the far end of the barn. Little did I know that walking around the end of that barn would change my life in ways I had never expected.
If you read about my early experiences with horses, you already know about how I got diagnosed with the horse bug. After meeting with the owner, we walked back to the barn and she showed me all the animals she had on her farm. There were 2 horses, 3 miniature donkeys, 3 goats, 2 pigs, a few cows, and a bunch of chickens! She told my mom and I that she doesn't get to go on vacation much because they have to find someone to take care of the whole farm. She welcomed us to spend time on the farm and with the animals.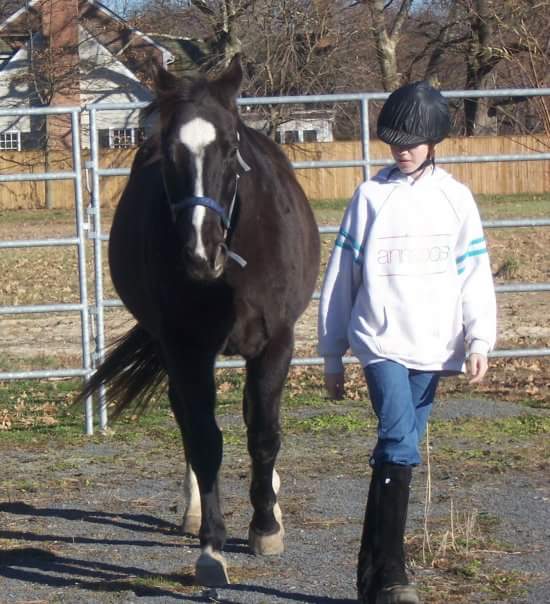 Not long after I started going to the barn every day after school, the owner went on a trip and we watched the farm for her. I started walking out to the horse pasture and just sitting on the fence or gate and watching the horses and donkeys graze and play. After about a week of sitting and watching, one of the horses walked up to me and placed his nose into my outstretched hand. Now remember, I had experienced a terrible riding accident that left me somewhat nervous about ever riding a horse again the previous winter.
I was unsure of what to expect from this black Thoroughbred gelding. Was he going to try to nip me or push me off the fence? Horses always know what you are feeling or thinking. ALWAYS! I started grooming him a week after he put his nose in my hand and within a month I was working him in the round pen. I still had not mounted Zack and was very nervous about doing so. He was a retired racehorse and the last thing I needed was to jump on a horse that was going to run off with me.
Later on that year, I visited a friend of mine in Deep Creek, MD and we took riding lessons with her instructor there. They saw how nervous I was, and needless to say, they worked together to get my confidence back. There I met Shadowwood's Sugar Maple and Sheryl Jordan. These two worked for 2 hours to get me comfortable on the back of a horse again.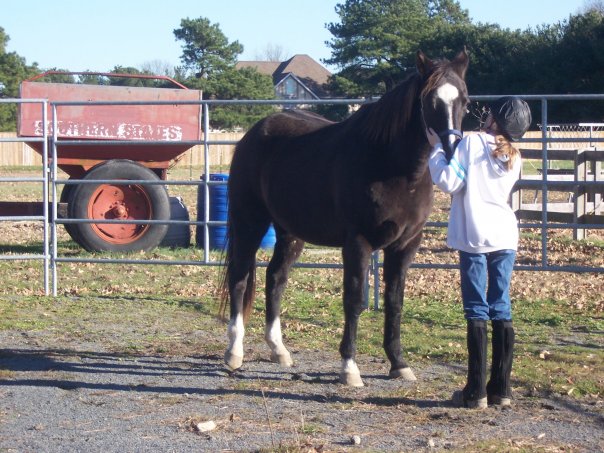 Once I returned home, I immediately went right back to Zack with a refreshed mind and regained confidence about riding. I gathered my riding boots and gear and set forth on a journey to ride like I had never ridden before. The first time I attempted to ride Zack, I looked into his eyes and he was calm. I, on the other hand, was a nervous wreck… I successfully mounted Zack and after we took 2 or 3 steps, something instantly changed. Before I even gave him the direction or signal for what I wanted him to do, Zack knew what to do and did it perfectly. In the time that it takes most people to get connected enough to attempt a canter, we were racing across the fields and taking trail rides around the neighborhood!
Until next time!
-Kat