Shower & Hunt Product Review
Everyone has their favorite cover scent that they have used for forever! There are tons of them on the market and new ones coming out every year. I was a Dead Down Wind user. It's what I used when I started hunting and it's what I used until the day I went to buy some and the store was out of the field spray. Obviously I was not going to go out hunting without spraying down with some sort of cover scent! So, in a pinch I bought a bottle of cover scent from the Wildlife Research Center. It worked well, but not as well as the DDW had worked for me before.
While messaging with a fan on my Facebook page, he told me about another company called Shower & Hunt. I'm all for trying new stuff! So of course I emailed the company to see about getting a sample to try.
Let me tell you! The first time I tried Shower & Hunt was by mixing it with water, per instructions on their website, to make a field spray out of it. I was resetting my trap since I have some pesky raccoons. I sprayed down my boots, my pants, my hair and my trap. I used it every time I went out to check my trap. Usually it takes anywhere between 1 ½ weeks and 2 weeks to trap a creature. I used the same bait, the same trap and the same location. The only difference? My choice of cover scent. It only took 4 days before my trap was triggered!
I definitely recommend Shower & Hunt! It smells wonderful in the package and is a great overall product! Email Shower & Hunt to get a free sample and try it for yourself today!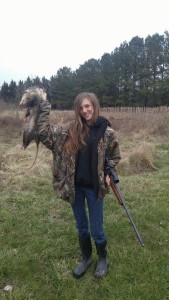 Until next time! – Kat