We all know Christmas is a time for family, friends, and having some fun. What a better way to have some fun for Christmas than with Shinesty clothing! I've worn Shinesty's clothing for a few years now and they never fail to impress me with their designs.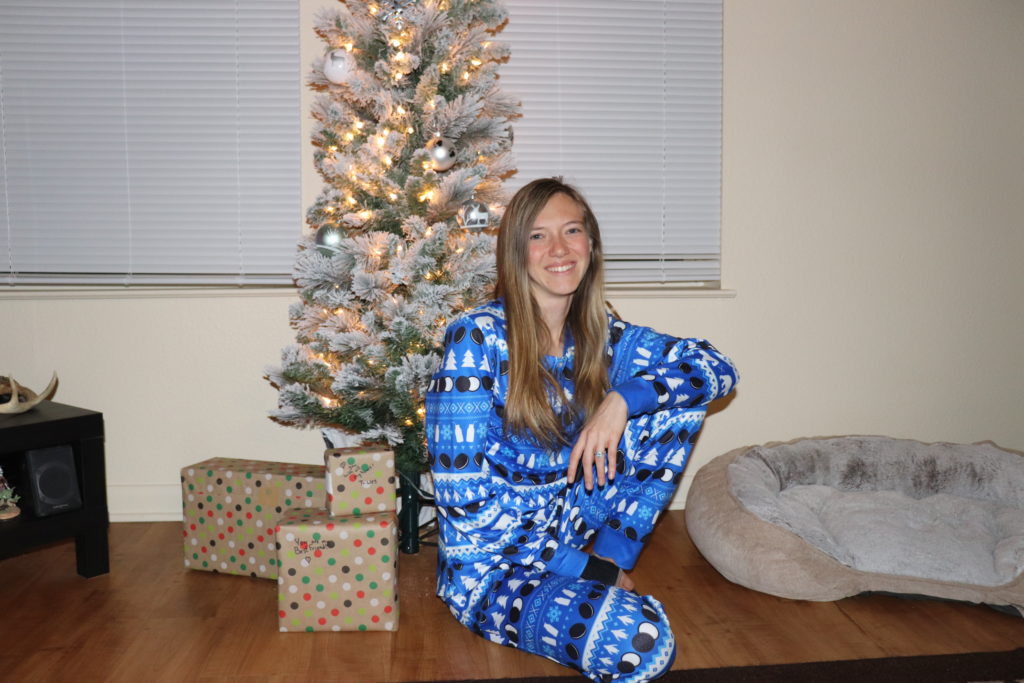 You can't go wrong with their pajama sets. This year they sent me the Grandma's Monstrosity pajamas. These have all the same features as the Milk's Favorite Cookie pajamas from 2019. They have pockets on the pants to hold your phone, small presents, and just general things. The top has a pocket on the sleeve for a TV remote so it never gets lost OR no one steals it to change the channel when you get up to get more snacks. Speaking of snacks… There are buttons and button holes on the shirt to pull the front of the shirt up and into a snack pouch! No more only having to grab what your hands can hold. Now you can pull up your shirt end and make a pouch to hold MORE! I loved the pattern on these pajamas. It looks like a quilt without all the seams and has the infamous lamp from A Christmas Story.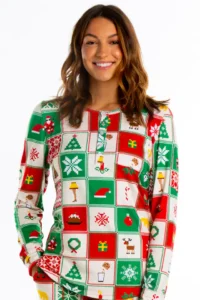 It's great to have fun Christmas PJs, but what about something you can wear to a party? Look no further than The Caribou Lous Pajamaralls! These are super fun, great for any Ugly Christmas Sweater party, and insanely comfortable. I actually wore these to a New Year's Party and they were a hit! I took about a hour before everyone realized what the design was. Shinesty is known for their fun adult, and sometimes inappropriate designs, but it great for Christmas or New Year's parties where you don't have to be so serious.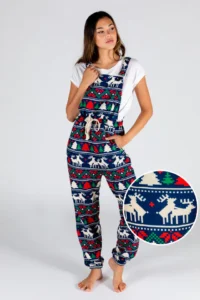 Shinesty also has clothes that can be worn for more serious occasions. One of my favorites is their Wrap Dress, which comes in dozens of fabrics. However, for Christmas they sent me The Lincoln Log Love Lady, a beautiful red and green plaid that just screams Christmas. And Scotland!
In my box of goodies, I received another wrap dress. This one is black with a string of Christmas lights. This one took me back to my childhood! I remember when I was a kid, my mom had a blazer with a similar design. It had a navy background and lengths of rope and leather with horse bits, stirrups, and bridle buckles throughout the design. As soon as I pulled this dress out of the bag, that's what it reminds me of. Definitely a nostalgic feel to that particular dress. On top of that, if could be worn for other reasons other than Christmas. I mean, it definitely has Christmas lights, but you could wear it for any holiday or event!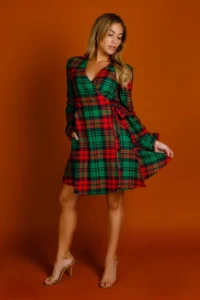 All in all, I've never been disappointed by Shinesty's clothes and this shipment isn't any different! Now I have a pile of new clothes to wear for all different occasions and even some new pajamas for next Christmas! If you have been looking for just the right new item to add to your closet, check out Shinesty. You never know what will tickle your fancy and become your new favorite!