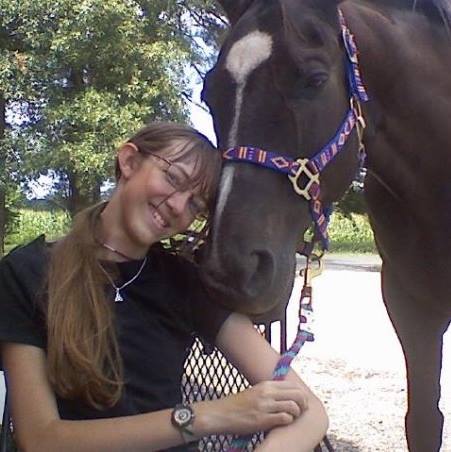 Zack and I were inseparable. You can ask ANYONE who knew me back then. If I didn't answer my phone after school, it was because I had left it at the barn while we went on a trail in the neighborhood to get away from the world. You heard about how Zack and I met all those years ago. So now it is story time…
I was so into horses, I didn't really care to make friends with anyone, but it turned out that Zack and the school bus that took me to Kent Island High School would introduce me to a "big sister" that would change a lot in my life. Carly was my best friend for years and still is. She lived one street down from the barn and it was not uncommon to see me ride Zack over to her house and have him tied up out front for a little bit while we ate dinner.
One day, Carly and I wanted to go for a ride, but we didn't have a ride to the barn from the high school. So Carly convinced her boyfriend, Seth, to pick us up from the school and drive us to the barn. One the way there, Seth said he wanted to try to ride. That worked out great because the farm owner had recently gotten a mule mare named Iris. Iris was a total sweetheart and very gentle, but she had one vice that would come into the light later that day.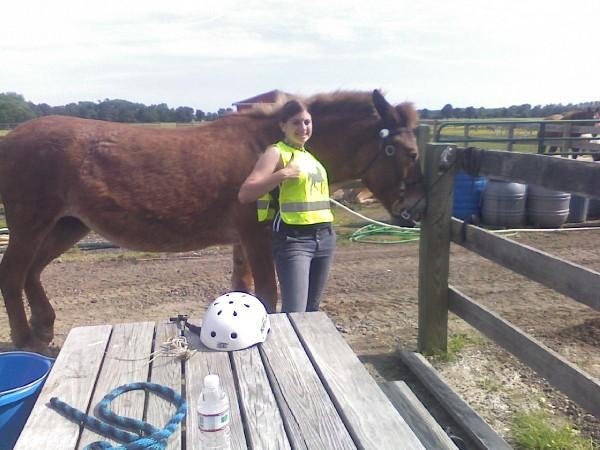 So Carly jumps on Iris just to get her warmed up and ready for Seth to ride. Of course, I jump on Zack and start warming up with stretches and some ground work. The whole time, Seth is watching us. Clearly we made riding look TOO easy because when he asked to get on, his experience would be TOTALLY different. We hold Iris so Seth can mount her, which he did with ease. We asked him to put on a helmet for his safety, which he refused. He claimed it "made him look dumb". So Carly gets on Zack and starts riding around. Iris is just following them around and I go to fetch Arnold, a chestnut Quarter Horse with an attitude.
During my walk to get Arnold ready, Iris has decided that she doesn't want to follow Zack anymore and just stands still while Carly is still trotting in circles around the field. Seth is getting upset and starts trying everything to get Iris to move. Ever heard the saying "stubborn as a mule"? Well, it's true! Iris was not moving. We offered Seth the helmet one more time in an attempt to get Iris to move. Her one vice that I mentioned earlier, she knows when you aren't wearing a helmet and will lock her feet until you put one on.
As Arnold and I are walking through a gate, I shut it behind us and as soon and the lock gently shut, Iris "spooks" and sits down. Seth, who was NOT expecting Iris to sit, rolls off her back and his back lands in a pile of old horse poop! Carly and I can't breathe because we are laughing so hard. We stop laughing long enough to ask him if he is ok, but it didn't last very long because as soon as he said "Yeah, I'm ok", we start laughing again.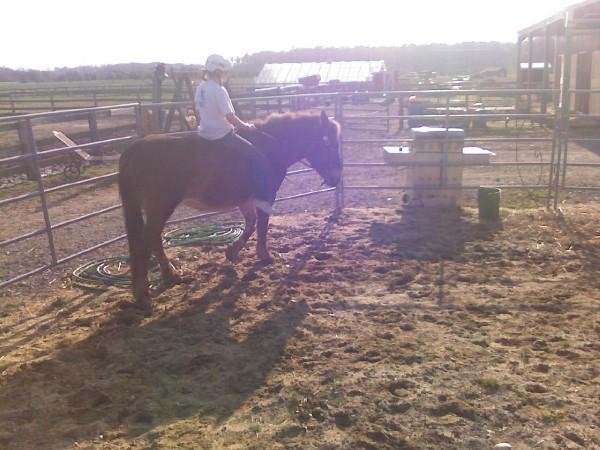 Later that afternoon, we put Iris and Arnold back in the pasture and decide to go for a quick tandem ride on Zack. As we are walking around, I ask Carly if she wants to try a trot. "Sure. Why not. Let's go!" is the response I got. I nudge Zack into a trot and he isn't quite sure about it, but he does it anyway. We make 2 laps around the field and then I nudge him again into a slow canter. Well, with all the bouncing, Carly and I start to come loose from his back and we are both slipping off in different directions!!!
Zack to the rescue!? He slides to a stop at the gate and as he is stopping, Carly slides off and drags me down on top of her! We are laughing hysterically and can't believe we weren't hurt. Zack looks down at us and smells both of us over to make sure we were ok. Let's just say that we never attempted that again…
Until next time!
-Kat