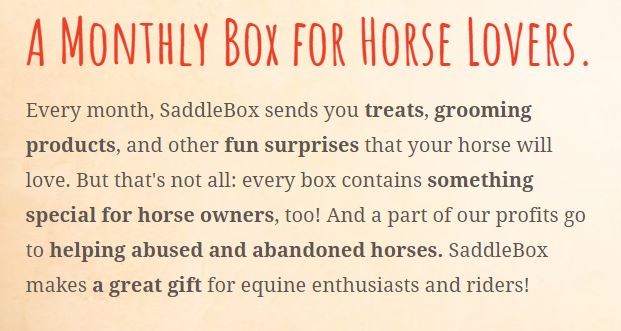 I hang out with my horse, Beni, almost everyday. Like any real horse person knows, just being with your horse makes you a happier person. If I'm sad and you can't find me inside, I'm probably out with Beni. So when it comes to taking care of my best friend, I want to use the best supplies I can. That's where SaddleBox comes in!
SaddleBox is a monthly subscription box. For $39.95 a month, you a whole array of fun horse care supplies! In a SaddleBox, you will find everything from shampoos, lotions, conditioners, to treats and brushed! As an added bonus, 10% of your subscription fee is donated to the local horse rescue so they can afford to take care of the abused and neglected horses that they take in. SaddleBox is a new company, and while they are new to the subscription box world, they have done an outstanding job so far. Their website is easy to follow and there aren't just random things thrown into a box. Every item is tested, ingredients are researched and everything is made for you and your horse.
The June SaddleBox theme is Treat Your Horse to a Spa Day. Each box is hand packed to make sure that nothing gets broken in shipping. There is also a postcard taped to the inside of the lid telling you all about that month's theme and about the horses that test out the products each month. Since June was all about spa treatment for you and your best friend, let me tell you a little bit about the products that came in my SaddleBox!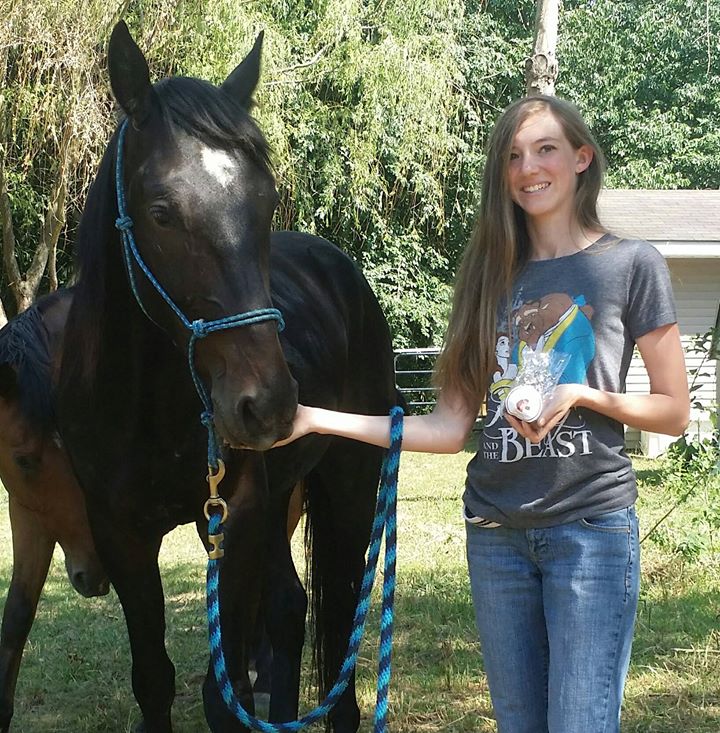 The first thing I saw when I opened my box was a sponge in a scrubby bag. There were also 2 peppermint sticks attached to the bag, which Beni gladly gobbled up. Along with the peppermint sticks was a bag of soft molasses treats. Beni is super picky about the treats but once he tried on of these, he kept trying to steal the whole bag… Plastic and all! As a nice little treat for s humans that love our horses, SaddleBox included a bar of soap with a running horse molded onto it. It smells really good and makes my hands really soft. All horse people know what herbal liniment is and what it does. For those of you who don't, liniment is a gel or liquid that you massage into sore muscles to relieve some of the pain and stiffness.
Another great addition to this box was a sample bottle of Spurr's Big Fix Filly Cream Moisturizer. It has a great citrus smell to it and works great for human and horse. Beni had a spot of his chest that had some dry skin. I rubbed some of this on it for a few days and it cleared it right up! Kiss My Horse is another company that was in this month's box. With a sample pack of a polishing shampoo, conditioner, and a shine & detangling spray, this sample pack will get your horse all ready for your next trip to the show ring! It will also make your friends super jealous because your horse will look great for your next trail ride. There is also a 10% off code on the label for your next purchase from Kiss My Horse!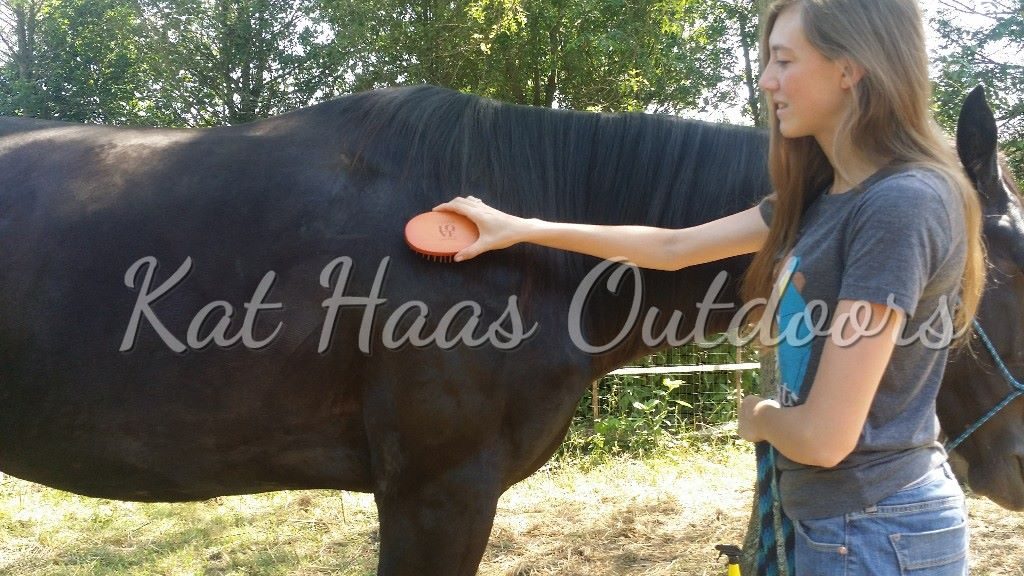 Last but not least is the Epona LOVE curry brush. This brush is different than any other curry brush I've used. It has wooden bristles to really massage your horse's skin while getting all that dirt and old hair. I thought I was getting it all with my metal curry, but then I tried this one and saw a DRASTIC difference. Good-bye old curry combs!!! The last addition to the June SaddleBox is a book by Megan Ayrault titled The Horse Lover's Guide to Massage. You can click here to get your own copy.
Make sure you check out SaddleBox on the web, Facebook, and Instagram! Horse lover's, order your own SaddleBox today and treat your best friend to a spa day!
Until next time!
-Kat & Beni