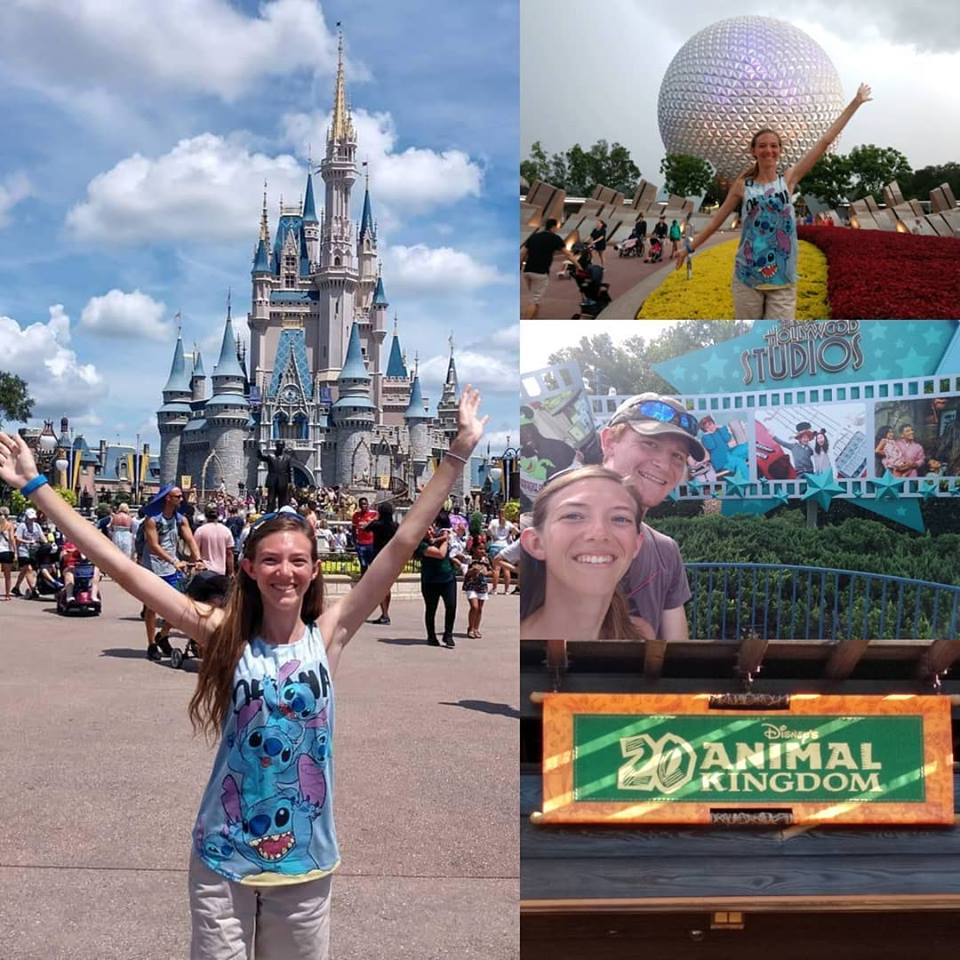 As we walked up to the Hollywood Studios security gate, I was fizzling with energy! We only had 3 rides at this park so we knew we had time to make our FastPass+ for Test Track at Epcot. After passing through the security gate, we were met with a scene out of an old movie as we wandered down Hollywood Boulevard to make our way to Sunset Boulevard. As we turned the corner, we ended up staring right at the Twilight Zone Tower of Terror. You could hear the screams from the gate!
Now, I'm not normally a fan of free-fall rides, but I have always been a Twilight Zone fan… I tried to back out of having to go on this particular ride, but it was no use. Before I knew it, we were inside the Hollywood Tower Hotel and making our way into the basement towards the elevator cars. It was too late to back out as we boarded our car. I was grateful to be all the way in the back so I didn't have that front row view of the ENTIRE PARK. No matter where in the car we sat, it was going to take us through the same ride and the same story. The car rose slowly and the elevator doors opened showing a screen that continued the story of the Hollywood Tower Hotel. The car rose again and started moving forward to a different part of the hotel where it quickly rose up to the 13th floor, the elevator doors opened revealing our height and the park before dropping and sliding to a stop before racing back up to the top to drop again! Our car dropped 4 or 5 times before sliding backwards and slowly returning us to the lobby and out through the gift shop.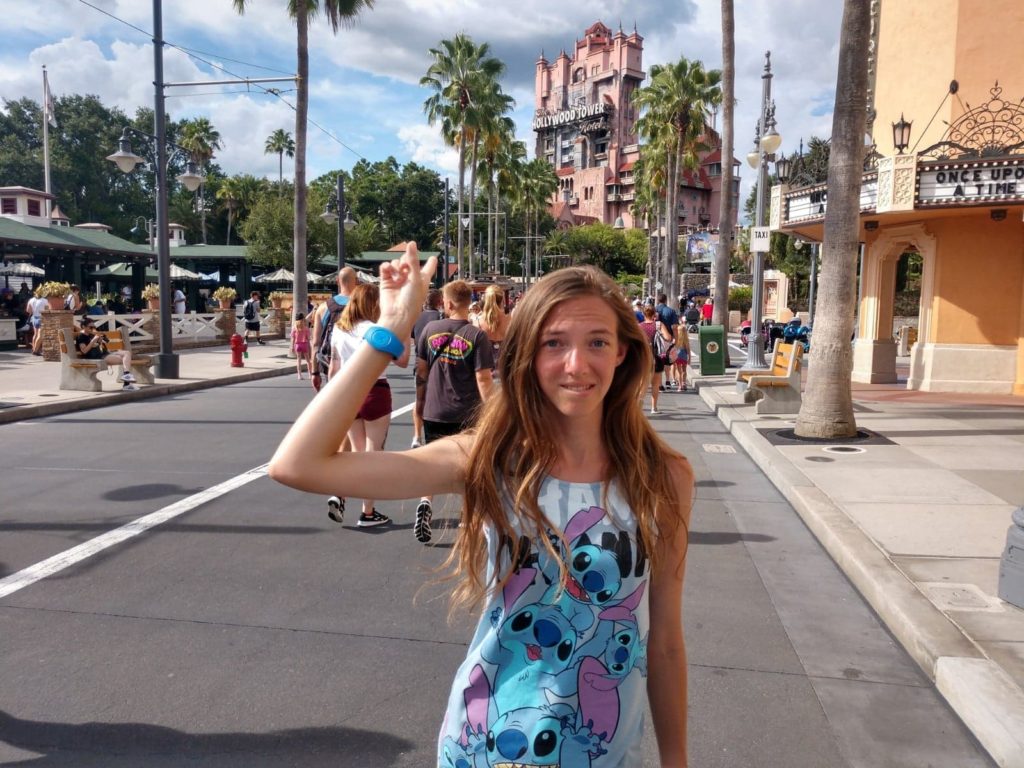 I don't think I've ever screamed so much in my whole life. My throat hurt from screaming as we fell and I wasn't done yet. Next was Rock 'N' Roller, an indoor roller coaster that flies around the track at 65mph doing loops and corkscrews while you jam out to Aerosmith's best songs. I have a strong dislike for roller coasters that go upside-down, but I was really excited to climb onto this one! You walk through a mini-museum of music recording history before heading into a recording room to see Aerosmith get escorted to their car and head off to a concert. Definitely a ride I would experience again!
I checked the time and the My Disney Experience app for wait times for the brand new Slinky Dog Dash roller coaster that had been unveiled only months before our visit and was shocked to find only a 30 minute wait, until we walked over to the ride to find it shut down as thunder rolled in and shook the ground. The park guests were making a mass exodus to the buses and the indoor rides while we wandered our way around and the rain started to fall. We sought shelter before checking the app again to find that ALL outdoor rides had been closed down, including Test Track. The 1 ride we had a FastPass for is the 1 ride at Epcot that is outside and must have a dry track in order to operate safely.
It was getting to be dinner time anyway, so we jumped on a bus headed for Epcot and grabbed some Chinese food from inside The Land building. We jumped on the Living with the Land ride, a slow boat ride through the gardens and laboratories of Epcot, where they show you where all of Disney's food is grown and how they are changing the way plants and seafood is raised.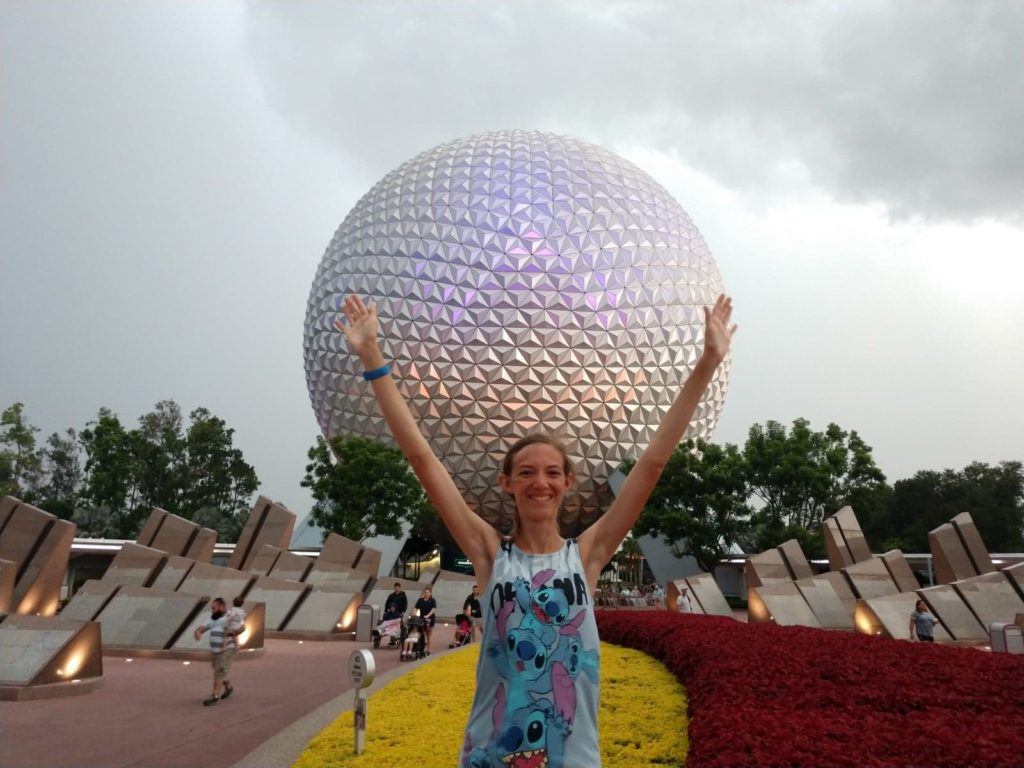 While resting our feet and taking a short break, the rain stopped and we wandered over to Test Track to ask when the ride might reopen, we had until the Extra Magic hours ended at 11, giving them 3 hours to dry the track and open up again. We had to waste some time, so we went straight to MISSION: Space and headed for the Orange Mission. We wove through the lines and got right into our spot just in time before the next launch would take place. At this point, I wasn't feeling great after all the roller coasters, free-falls, and 4-D thrill rides we had gone on but I was determined to keep going.
After all, we only had 1 day and had only just gotten to Epcot. By the time we got back to Test Track, It was raining again and the staff decided that Test Track would not reopen for the night. Wes and I immediately walked back to The Land building to wait in a 5 minute line for Soarin' Around the World. Soarin' is a spectacular ride where you fly around the world and see the most beautiful sights from different countries.
Once our ride ended, I couldn't handle anymore rides. My stomach hurt from all the motion and adrenaline rushes we had put ourselves through. We made a short walk through the World Showcase, which probably would have been more beautiful during the day, and stopped in a few shops along the way. By the time we made it back to the bus to head back to Saratoga Springs, I was dead on my feet and ready to fall asleep. Visiting all 4 parks in 1 day is no small feat but we accomplished it without dying! Just kidding, we wouldn't have died, but I know my feet were happy to collapse into bed.
As I said before, Disney isn't the most affordable vacation but it is certainly worth the trip. Just watch the weather and click here to read Part 1 of my Day at Walt Disney World!
Until next time!
-Kat & Wes